Traditional Neighborhood Homes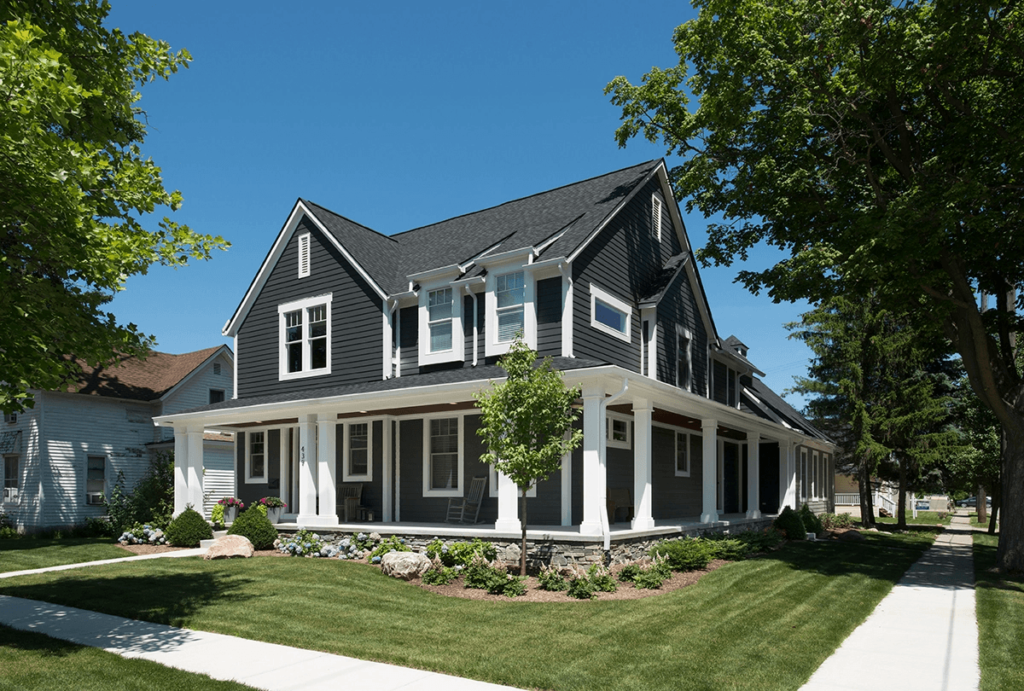 Think "Leave it to Beaver." Homes designed for traditional neighborhoods should have the following characteristics:
Design that encourages a sense of community.
Designed to minimize the impact of the automobile.
A sense of historical correctness to the massing and fenestration.
Historically correct detailing.
To encourage a sense of community, many TND-styled homes will have large porches. This outdoor space (which is typically near the sidewalk) allows homeowners to give a shout out to their neighbors as they pass by. TND neighborhoods encourage pedestrian activity and, as a result, the need for an automobile is diminished. Typically the garage will either be entered from the rear of the home through a carriage lane or minimally set back from the front facade. TND-styled homes also place emphasis on historical architectural correctness relating to the detailing, fenestration, and massing of the home. The Sage is a home designed for a TND community.
A. Kitchen: Large island with no sink acts as a serving area and has enough seating for five.
B. Kitchen: The kitchen is wide open to the great room and dining area. This is the perfect setup for entertaining guests and casual family living.
C. Den: The study has access to a full bath that allows the space to flex and become a bedroom in the event of a guest visiting the home.
D. Family entrance: Generous space that's designed for a growing family. Lockers help to keep the space free of clutter.
E. Patio: Integrated outdoor living blends the interior and exterior.
F. Porch: Designed for a corner lot. The massive covered porch creates additional outdoor rooms and a panoramic view.
G. Built-ins: Low built-ins adjacent to the fireplace create a custom look.
H. Bonus: A bonus space adjacent to the owner's suite is an imaginative space that opens up a lot of interesting possibilities; it can be used as an exercise room, storage room, private study, or home theater space. The opportunities are numerous