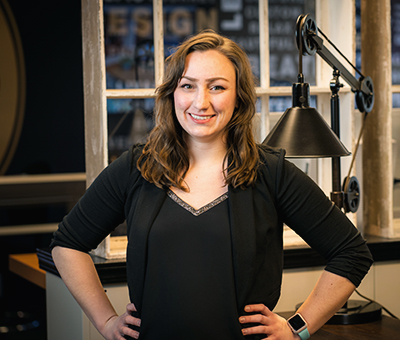 Nicole McIntyre is currently working toward her Master's degree in Architecture. Nicole's love of architecture and her talent in this career path is evidenced by the fact that she has maintained a near perfect 3.9 grade point average in her program of study. More telling is that Nicole has managed to achieve her exceptional school work record while also holding down a full-time job. Nicole's hard work and dedication make her a great addition to the TK Design & Associates team.
Nicole came to TK Design from IMPACT Management Services where she served as a recruiter for commercial accounts. In this position she selected and interviewed candidates for open positions and assisted new hires with onboarding. She also instituted a number of system improvements which streamlined back-end office operations. Prior to that Nicole served as the Care Coordinator for the MCHAMP Athletic Performance Care Program within Michigan Medicine (formerly the University of Michigan Health System). In this role she helped manage and coordinate the care of pro athletes, donors, and other patients. As the first to hold this position, she was instrumental in creating processes which established the operations of the Enhanced Amenities Program. For her work she was honored with a Service Excellence Award and a MHealthy Champ Award.
She has had her original artwork displayed in Times Square in New York and has a personal art brand, NicMacArts, offering her original paintings as well as home decor items through an Etsy store. A lover of animals, Nicole is a certified dog trainer and pet care specialist and has volunteered to foster dogs for over seven years, most recently with Pawsitive Care.

Our homes are desired by builders and buyers across North America, and we're a respected voice in the home design industry.