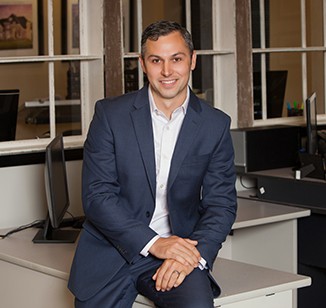 Mike Latimer is a unique craftsman. His hands have built homes, as well as skillfully drawn them. His practical knowledge of building provides him with a unique perspective on how to design residential homes that combine charming aesthetics, functional livability and cost savings through lean building practices.
Mike's residential home design career actually began with one of his early career positions as a rough framer with Lakewood Construction in Northville, Michigan. As a rough framer, working on the skeleton of buildings, Mike was responsible for building the most important structural component of both residential and commercial buildings. Measuring, cutting and assembling lumber for walls and other structural elements, Mike learned to use his geometry and math skills, read blueprints and work quickly and efficiently with precision, all the while absorbing what makes a good design work.
Mike 's passion for building design led him to study at Lawrence Technological University where he won several student design competitions before graduating with a Bachelor of Science in Architectural Engineering. While pursuing his degree, Mike worked as a maintenance technician at the Sterling Business Center in Brighton. Subsequent to that, he worked as a project manager and engineering consulting department head at TWF Solutions in Brighton. He also served as a designer and builder with Legacy Studios in Pinckney for several years before joining TK Design & Associates in 2013.
Today, Mike uses the experience and knowledge he has acquired in his over 10 years of work in residential construction to solve design challenges using lean building practices. His focus is always on finding ways to improve on home designs while reducing building costs, working in collaboration with clients to create warm and inviting places that they are proud to call home.

Our homes are desired by builders and buyers across North America, and we're a respected voice in the home design industry.