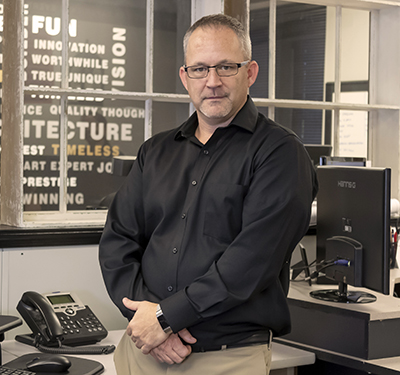 Eric has worked as a construction site laborer, a finish carpenter, a construction materials estimator, an architectural draftsperson, an architectural designer, and co-owner of a residential remodeling and new construction company. "When it comes to home building, I have dug the trenches, installed the shingles, and done everything in between," says Eric. With each successive position, over more than 30 years in the residential home design and building industry, Eric has expanded his knowledge of every facet of home construction. He has worked previously as a CAD designer and manager with prominent firms such as Pulte Group, Dominick Tringali Architects and Lombardo & Associates Engineers. It is this mix of hands-on, practical, "in the trenches" experience, coupled with a unique talent for understanding and resolving challenges, which Eric brings to his position as Production Director with T.K. Design & Associates.
Since Eric joined T.K. Design & Associates in 2011, he has worked closely with Todd and Katie Hallett to grow the company. He loves a challenge so it's only natural that he excels at process improvement. Eric is well known for his consulting skills, which have assisted builders across the nation in ferreting out waste in systems and processes, reducing costs for their businesses and for their new home buyers. He has also worked with State of Michigan officials, lending his expertise to improve building code requirements.
Eric has held a residential builders license in multiple states including Michigan since 1995. He believes that his broad-based experience is an asset to his clients. "Being part of the T.K. Design team that travels and works across the United States, and even abroad, has given me a unique perspective on many different design types and construction methods," said Eric. "My background and experience provides me the knowledge to solve any problem in residential home construction and design and I am often challenged to do so."
"Throughout my travels in the design industry I have realized one thing that is lacking from so many design firms, and that is a relationship between the architects and field personnel," said Eric. "At TK Design we realize the importance of communicating with the people that actually use our drawings, not just the upper management of construction companies. Through our countless meetings and discussions with superintendents, concrete masons, carpenters, brick masons, heating and cooling contractors, electricians and others, we have developed a process that reduces or eliminates wasted time, not only in our own day-to-day activities, but also for the trades. Our goal is to help our clients become the builder of choice for their trade pool, which will ultimately make them much more competitive in the industry."

Our homes are desired by builders and buyers across North America, and we're a respected voice in the home design industry.