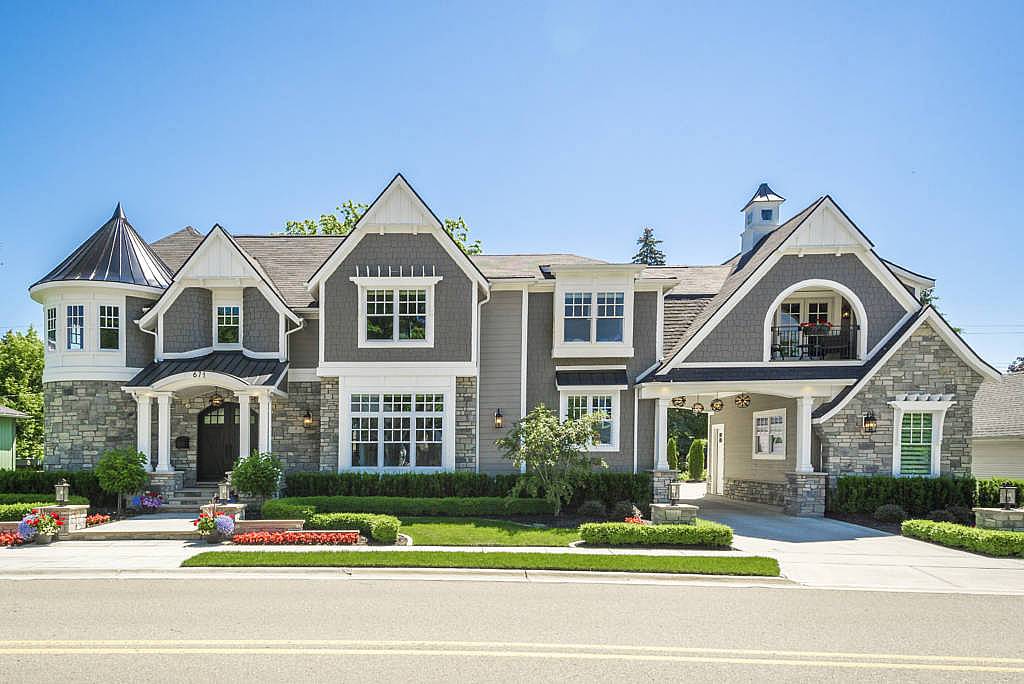 The lure of a walkable downtown, public parks, and vibrant city life is driving buyers to seek out urban infill properties. When designed properly, new homes will revitalize a downtown area by aligning today's architecture with the contextual cues of the existing city fabric. The vast majority of city infill lots are very tight. This forces the home design to be narrow and deep. Often the home will either have a garage dominant façade or a detached two car garage in the rear of the lot. If the garage is detached, the driveway will be on the side of the lot occupying precious real estate and forcing the home to become even narrower. To find property that will accommodate a wider home in this setting is truly a rarity. A wide lot allows for multiple architectural opportunities including effective auto management, stronger street presence, and preferable room arrangements.
The featured home is designed for beautiful downtown Plymouth, Michigan. The design was conceived in a collaborative setting between TK Design and Associates, Bruce Holder Building, and the future owners. The strength of that collaboration is evident in the well thought out design. Let's take a closer look:
A two-story turret housing a flying staircase anchors the home and creates interest on the street side.
Generous lot width allows the plan to breathe, avoiding stacked boxlike room placement.
A power pantry allows for plenty of storage including an extra freezer.
The porte cochere creates a private entrance to the garage enabling a pedestrian friendly street presence.
The generous laundry area is flooded with light from a large front facing window.
Owner's tub is eliminated in lieu of an oversized shower.
Bonus space provides an excellent retreat with a balcony overlooking the neighborhood.
The charming Coastal exterior is in perfect harmony with the surrounding homes while the structure's massing provides a unique character to the urban streetscape. This 3,800 square foot home provides a great twist on traditional infill design with a charm that is unforgettable.