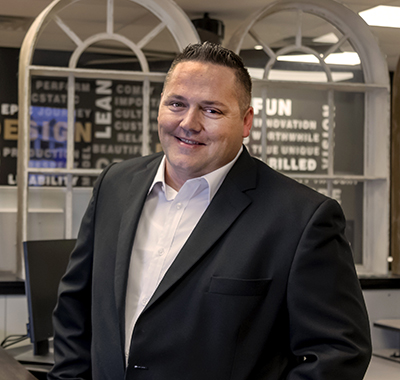 To say that Mark Bolin started his career from the ground up is not an understatement. Eleven of the first twelve years of his professional career were spent in concrete construction positions.
As a foreman with Snow Brothers Construction, he supervised a crew which poured concrete for building walls and foundations. He also worked as a concrete finisher with LJ Concrete Construction in Mason, Michigan, for six years. While there, Mark used his creativity while honing his construction skills to design and create colored and stamped concrete, including poured concrete countertops for residential and commercial clients. Along the way, he also served as a framer and finish carpenter with Putnam Construction, using his construction knowledge to resolve challenges in the building of homes, garages and pole barn style buildings.
Mark attended Lawrence Technological University while working full time. He was awarded a Bachelor of Science in Architecture in 2015. Since graduating, Mark has served as an electrical designer with Matrix Consulting Engineers in Lansing, where he developed electrical power and lighting designs for commercial, governmental, educational and healthcare industry clients. His responsibilities also included building information modeling (BIM) projects for General Motors. Prior to joining the T.K. Design team, Mark worked with Dart Container Corporation in Mason, Michigan, as an architectural designer. At Dart, Mark developed architectural plans for new and remodeled spaces and managed the construction process through to completion.
Mark is now putting his vast industry experience to work for T.K. Design & Associates and its clients, who will all benefit from his thorough understanding of residential construction. This knowledge spans a home's design, foundation and framing, through to the finished details -- a wealth of residential building knowledge literally from the ground up!

Our homes are desired by builders and buyers across North America, and we're a respected voice in the home design industry.